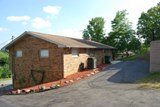 Welcome to the wonderful site that Wendy (a former tenant) built for us FREE of charge! I have figured out how to edit this so that I can add things like: MaxCal LLC started a Facebook page in January 2011 so see what our past (and returning) guests have to say!! I also changed pictures of the entertainment systems. From here on it's all Wendy's work:
MaxCal LLC offers this completely furnished 1,200 sq. ft. home as a short-term rental. We recently upgraded the entertainment system in the home! Better than ever now and much easier to add a gaming system to now.
Whether you are visiting family, vacationing, or attending special events such as race weekends at Bristol Motor Speedway & Dragway or the Jonesborough storytelling events, this home is the perfect get-a-way.
This home is located in a small and very peaceful neighborhood, next to last house on a dead end street. It's just a few miles from the Tri-Cities Regional Airport. The distant travel times are under 20 minutes to any of the three main cities and just slightly longer drives to Jonesborough, Greeneville or Elizabethton. Gate City Virginia and other southwest Virginia towns aren't far away either!
Only the upper level of this home is available for rent. It has three bedrooms, two bathrooms, livingroom, fully loaded kitchen, and dining area. The driveway leads to the back of the house where access is from the rear kitchen door.
Rental is based on a weekly basis (7 days). Rates start at $350.00 per week (not including Bristol Motor Speedway race weeks which are under contract for the forseeable years to come by a great returning guest family ) for a single or one couple. Rates increase per the number of guests and bedrooms used. Extra day rates can be added to the total weekly rate. Daily rates will be determined after the weekly rate. We can be contacted for availability dates. Reservations are constantly being added so please let us know your desired date(s) of stay when contacting us. We require speaking personally with all new guests/tenants via the telephone when making the initial reservations.
The required deposit amount varies and is required to hold reservations. A deposit is necessary for any possible damages, loss, and/or in case of the need for extra ordinary cleaning needs. MaxCal L.L.C. graciously expects to do usual clean up, vaccuming, washing linens, and hauling trash; however, we expect the refrigerator, microwave, and the like to maintain the same prestine conditions that they were upon arrival. Deposits will not be refunded if we are not contacted prior to three (3) weeks of cancelation and/or change of reservations.
For information on availability dates, contact the landlords/hosts Paul or Elaine with your requested dates of stay. We can be reached at 423-239-3906 or 423-534-4691. Or you can email us at: MaxCal Home Rental. They are your convienent, friendly neighbors located right next door.
Other ammenities include: Air Conditioning, Lighted Parking, Recycling, and Free Ice.
Please feel free to contact us anytime.
Here are some other websites we encourage you to visit: